New Restaurants Adding to the Flavor of Central Square
Posted: Jun 08, 2020
Living at Market Central means that you're right in the middle of vibrant and exciting Central Square, making it easy to experience everything the neighborhood has to offer. This includes a wide array of restaurant options, spanning all sorts of cuisine from vegetarian diner food to global tapas. And while Central Square already has a collection of established neighborhood eateries, there are still many more exciting options to come, including The Dial and Blue Owl, two new dining and drinks destinations from Chef Justin Urso, opening right next door to Market Central at 907 Main

Chef Justin Urso is a notable figure in the local food scene, with 15+ years of experience including having worked under Frank McClelland at Boston's L'Espalier and Sel de la Terre, as well as having served as the Chef de Cuisine at Deuxave in Boston and Cambridge's own Catalyst. His cooking career has also taken him to New York City, where he worked with James Beard award-winning chef, Mark Ladner at Michelin-starred Del Posto. With his experience across an array of cuisines, after an introduction to 907 Main developer Patrick Barrett III, Chef Urso signed on to create the menu at The Dial, globally-inspired and including some reimaginings of comfort food. The wide-ranging menu features dishes touching all corners of the globe, from jerk quail to pierogies, and includes familiar flavor profiles but with a local spin. Meanwhile, upstairs on the top level of 907 Main is Blue Owl, Central Square's first rooftop bar. There, guests can enjoy an assortment of drinks and cocktails, as well as a menu of bar bites, skewers and desserts, including duck fat fries and deep-fried Junior Mints.

And as a sample of the types of flavors you can expect from the restaurants at 907 Main, Chef Urso has kindly provided the recipe for Blue Owl's shrimp tacos, a delicious and easy meal that you can make while social distancing at home:
Shrimp tacos with cilantro-lime slaw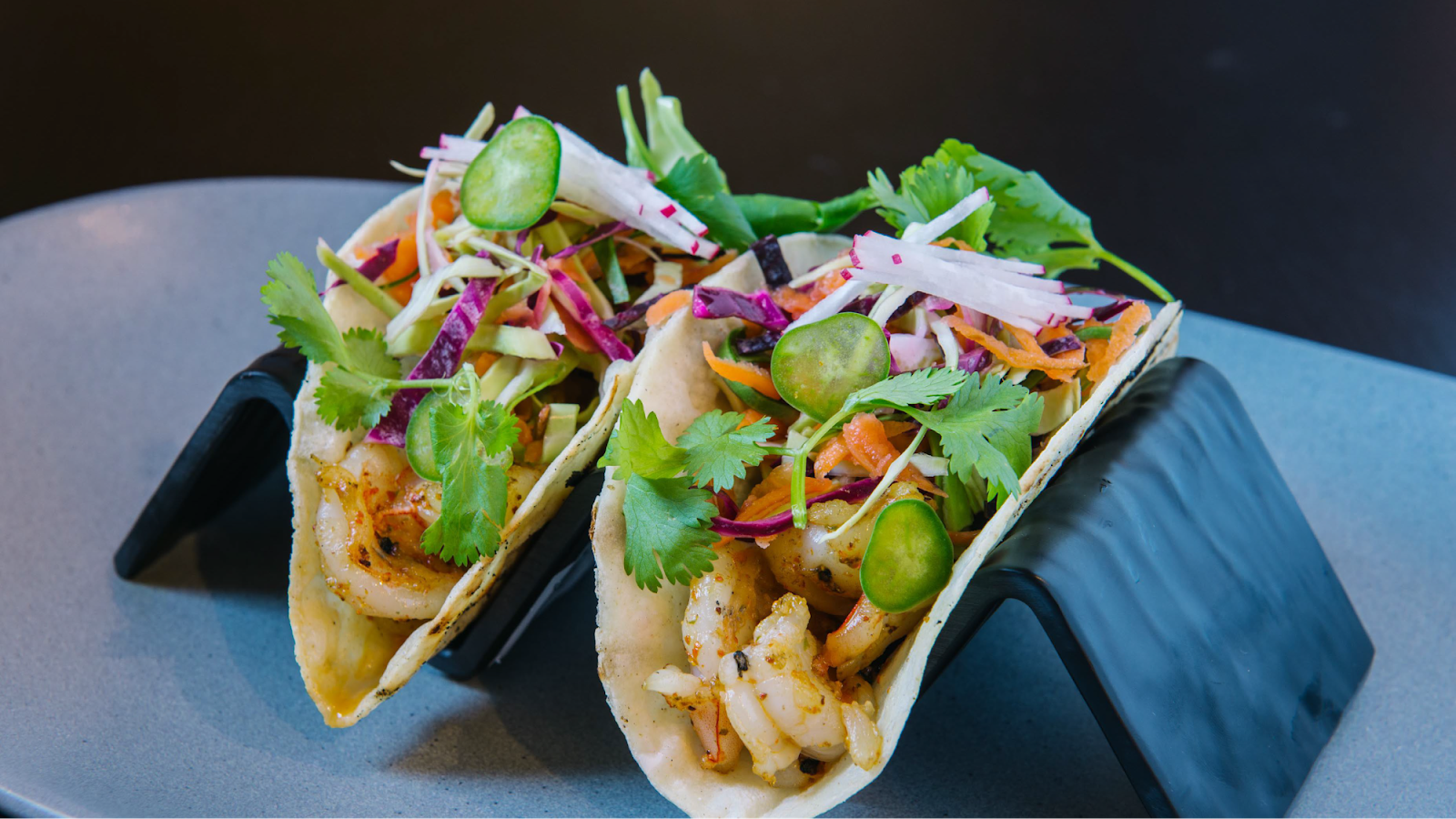 This is a super simple and quick dinner (or snack) to throw together. Total prep and cook time is 15 minutes!
Ingredients
1 package of tortillas, flour or soft corn (I prefer fresh corn tortillas)
3 oz canola oil
1 cup shredded cabbage (red or green is fine)
¼ julienned radish
3 limes
½ pound of shrimp (I use peeled and deveined, 16-20 count)
2 bunches of cilantro
2 sliced jalapenos, seeds removed
Chipotle powder
Garlic
Avocado

Method
The first step is to marinate the shrimp. Simply place your shrimp in a Ziploc bag or a medium-size bowl, sprinkle with chipotle powder, 1 oz canola oil, sliced garlic, ½ bunch cilantro (rough chopped) and lime cut into slices.
Next, we are going to make the slaw. Combine the cabbage, radish, sliced jalapeno, cilantro, lime juice, and a little bit of salt.
Next, heat a saute pan and add 2 oz of canola oil. The oil should shimmer in the pan just slightly.
Add the shrimp and saute about 1 min each side.
Once cooked place the shrimp aside and wipe out the pan.
Griddle each tortilla in the pan for a couple of seconds just to warm through.
To plate the tacos, place 3 pieces of shrimp top with the cabbage slaw, garnish with a slice of avocado, and some cilantro leaves. Serve with more fresh-cut limes
Enjoy!
For more information about The Dial and Blue Owl, you can visit the 907 Main website, and if you'd like to live in a neighborhood with such a thriving culinary scene, Market Central is currently leasing! Schedule your virtual appointment or take a 360° virtual tour today to learn more about joining our community!
Back to all posts