Building a More Bike Friendly Central Square
Posted: Jun 15, 2020
Whether as a means to reduce one's carbon footprint, or as an affordable, convenient and healthy way to get around, biking has risen in popularity in urban areas across the country, and the Greater Boston Area is no exception. In fact, surveys have shown that the number of people who bike as part of their commute in Cambridge has been steadily rising in recent years, recent data showing that nearly 9% of Cambridge residents bike to work. It is for this reason that Market Central, located at the heart of Central Square, has adopted a bike-friendly vision, meant to accommodate all of our on-the-go residents. Here are some of the community's many bike-friendly features:


Bike storage floor for all residents
If biking is your transportation mode of choice, storing your bike in your apartment shouldn't be a hassle. That's why at Market Central, instead of having your bike take up space in your apartment, we offer a full floor of bike storage on the lower level of our Link building, that is available to all residents. This storage floor not only has racks to accommodate 150+ bikes, but also features a tuning station to help you keep your bike up to snuff with maintenance. Additionally, instead of having to wait for elevators or trying to finagle your bike down the stairs, this lower level features a ramp to help you easily get your bike to and from street-level.

Free Bluebike annual membership
For those who would like to get a taste of the biking life, but don't want to fully commit to buying a bike, you're in luck — at Market Central we offer free annual Bluebike membership! Bluebikes are a public bike share system that allows you to unlock bikes from their docking stations for a ride and drop them back up at whatever docking station is closest to you. It's all the perks of bike riding without having to worry about storage or maintenance. There are 3,000+ bikes across 300+ docking stations across Boston, Cambridge, Somerville, Brookline and Everett (including right outside of Market Central), making them a convenient way to get out and explore the area.
A new raised bike lane on Massachusetts Avenue
As biking has become more popular, bike safety is of the utmost importance. Many areas in Cambridge have bike lanes, but not all of them are protected and even fewer of them are raised cycle tracks. However, at Market Central, we are bringing 375 feet of raised and protected bike lanes to busy Massachusetts Avenue. This means that not only will cyclists be separated from automobile traffic with their own lane, but by that lane being raised and protected, it also reduces the risk from opening parked car doors and overtaking vehicles. Having this designated track will make our streets safer for cyclists, pedestrians and drivers alike.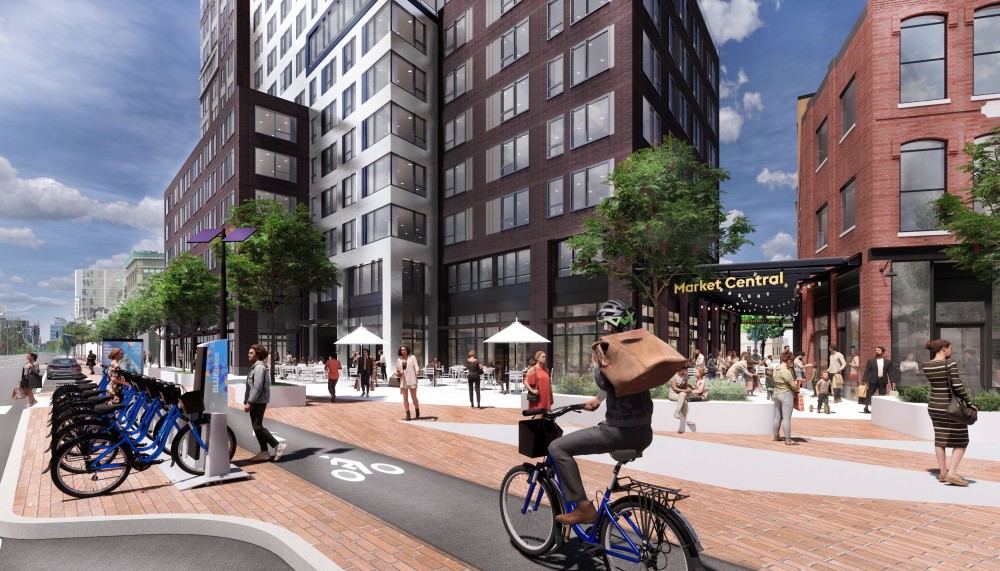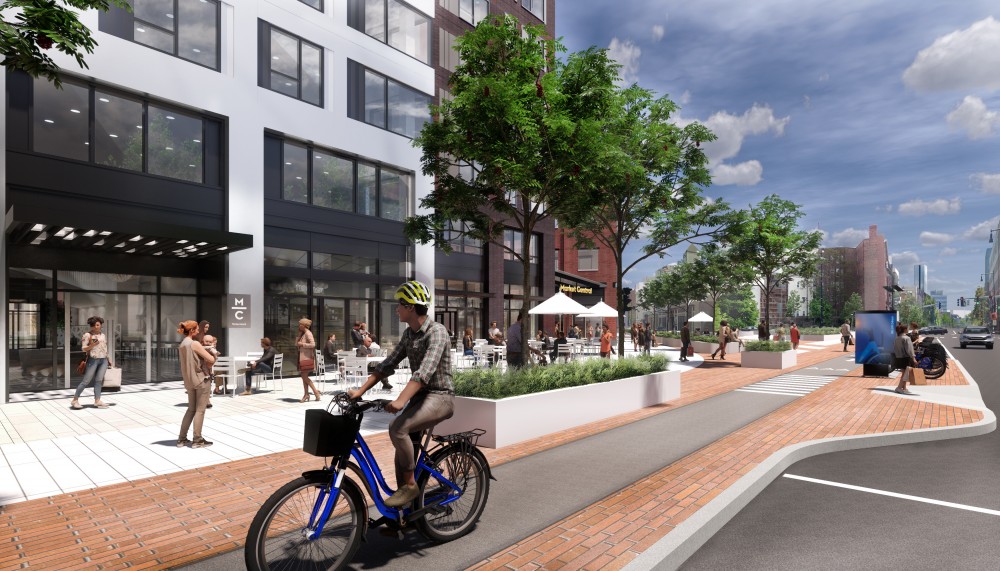 If this is the type of bike-friendly community you'd like to be a part of, schedule your virtual appointment or take a 360° virtual tour today to learn more about how you can become a resident of Market Central!
Back to all posts