An Update on Construction at and Around Market Central
Posted: Jul 08, 2020
After many years of hearings and construction, we are happy to share that Market Central is nearly complete! All three of our buildings (Union House, Link and Watermark Central) are now open with fully supported amenities and a broad array of apartment options, from studios to lofts to 3 bedroom homes (a full availability list can be found here).
Outside of the building, there are a few things that will be completed soon, but are still in progress, so here's an update on some of those sitework and utility construction projects: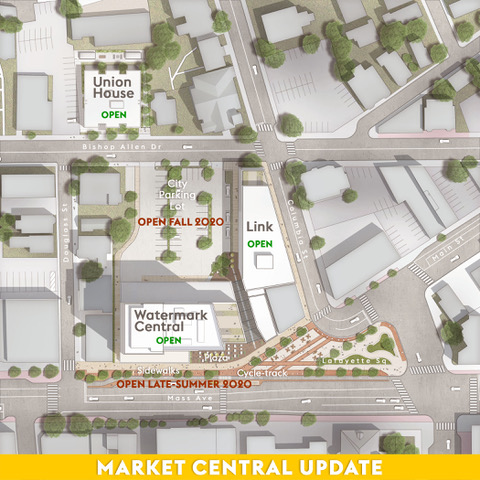 Sitework Along Massachusetts Ave
There is still fencing and barricades along Massachusetts Ave as part of a City of Cambridge storm drainage project, and those will stay in place until this work is completed later in the summer. Meanwhile, the City has completed the connection deep below Massachusetts Ave, and the Market Central Team has started with improvements from Douglass Street to the end of Lafayette Park, including:
● A dedicated cycle-track for bicycles (find more information on that and our vision for a bike-friendly Central Square here)
● New sidewalks, seating areas and street trees
● A plaza in front of the Watermark Central building and first floor shops
Sitework Behind Watermark Central
For the past 2+ years, Market Central and the City shared the former Parking Lot #6 as a construction staging area for the residential buildings and the City storm drainage project. The City will soon complete the storage tank portion of their project and hand over the area to Market Central for the purposes of reconstructing the City Parking Lot. The parking lot and related landscaping are anticipated to be completed this fall.
Other Construction and Utility Projects
There are other City infrastructure projects happening in The Port neighborhood to address issues including flooding. A general overview of these projects can be found here, but the utility improvements closest to Market Central include:
● Construction on the PL6 Stormwater Tank
● Work on the Clement Morgan Tanks, two tanks in the area of the basketball court in Clement Morgan Park
● Reconstruction of sewer, drain and water pipes in the neighborhood
● Work with private utility companies like Eversource Gas to upgrade their infrastructure
Additionally, beyond simply reconstructing streets and sidewalks, there is work being done to create Complete Streets, which are streets that are more accessible with features such as street trees, green infrastructure, traffic calming, improved lighting, street furniture and play elements.
We're excited about the improvements being made both around Market Central and in our community as a whole! If this sounds like a community you'd like to be a part of, schedule your virtual appointment or take a 360° virtual tour today to learn more about how you can become a resident of Market Central!
Back to all posts